Welcome
to
Bunnie's Spirit Page



I am "Bunnie" fighting with
"Site Fights High" in the site fights!


Please, click here to cast your vote for us !!

Poem Inspired by MrsBJBunny

I met you when I got here.
My first day coming thru.
I knew not what to do yet,
I did not have a clue.
You talked to me so kindly.
You knew that I was new.
You took the time to help me,
Told me what I'd need to do.
Now I have not forgotten,
I need to tell you, too!
I'm glad the day I came here,
I made a friend in you!

Original Shout by: Bunnie (TheBunnie)


These were given to me by MrsBJBunny! :o)
She has a cute little place not far from here.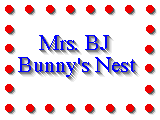 Click here to check it out!
Make sure to vote for her. :o)


These were given to me by DCottontail
the night before my first fight in field #1! :o)


What's that I hear?
It's low, but clear.
Bunnies come from far and near!

Louder now, is the humm,
Growing louder as they come.
Thunderous beating like a drum!

We are Bunnies! We are here!
Fight! Fight! Fight! That is their cheer!
These brave "dabunnies" know no fear!


Well, as it turns out,
DChaoticBunny loved her birthday page.
She released the bunnies from the FunnyFarm!!




Come on Bunnies!
Make the bells ring!
We have a great reason to dance and sing!

The Evil Bunnie once held our friends,
But, DCB tried to make amends.
And, "To your homes, All go!" she sends

Hippity, Hoppity do they come!
Some will bounce and some will run.
We'll not stop, we're havin' fun!

So dance on Bunnies! Shout with glee!
Good battled evil, now do you see?
The good "dabunnies" have a Victory!


MysticalMaiden blind-sided me
with this water balloon!
Click on her name to visit her site.


Thank you fairy Falling Star! :o)


This is another "dabunnie"!
Click on her banner to visit her site.



Thank you Spirit Lavender Rose! :o)




PLease, click here to cast your vote for us !! Thanks!


Wow!!
There is more spirit here than
one page can hold!! :o)
Want to see More??
Yes! I do! :o)




Sign My Spiritbook
View My Spiritbook
"Little Rascals" Graphics